Acupuncture for Balanced Wellness Video Transcript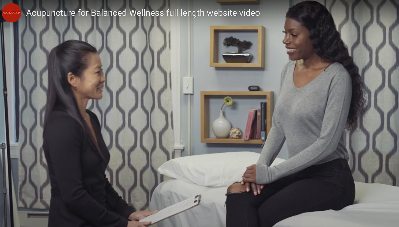 Our Licensed Acupuncturist discusses our clinic philosophy and services
Acupuncture for Balanced Wellness is about restoring health and wellness to the body. It's about promoting healing from within, helping to get to the root cause of an illness and helping patients feel better in a natural and holistic way.
I'm Angie Ng, owner and acupuncturist at Acupuncture for Balanced Wellness in Chicago. I'm a board certified and licensed acupunturist who's been practicing since 2008. We treat a wide range of conditions with acupuncture, and we specialize in the treatment of infertility, pain problems, anxiety and stress, and anti-aging. I came up with the name Acupuncture for Balanced Wellness because I beleive health is about balance. I aim to provide my patients with individualized and holistic healthcare. I'm looking at each patient as a unique individual and getting to the root cause of their health concerns and get to the root cause of their problems.
Acupuncture is a holistic form of medicine that helps to encourage the body's natural healing processes. It helps to restore balance and wellness by helping the body relax, helping to increase blood and energy flow, helping the body to release natural pain killers, such as endorphins, seratonin, enkephelins, and also helping to reduce some of those stress hormones, such as cortisol. In addition to acupuncture, we might use electro-therapy, herbal therapy, cupping, bodywork, and other natural therapies under the umbrella of Chinese Medicine.
At Acupuncture for Balanced Wellness, we can really relate to each individual's problems. I come from a corporate background, so I really understand the stresses of balancing work and everyday life. I've lived that lifestyle, so I understand how frustrating and difficult it can be to attain wellness because I can understand on a deep level where they're coming from and I know how to help them.